You may think that only Hollywood stars get their teeth straightened as adults. You may believe that it's the preserve of the rich and famous and only done for vanity.
The truth is that many adults want to straighten their smile and not just because it will look better. Having crooked or misaligned teeth isn't good for your oral health. It makes teeth harder to clean and means that decay and disease are more likely to take hold.
And how we look isn't just vanity: self-esteem is a vital part of human psychology and if you aren't happy with your appearance, your confidence can take a dive. This means that you are less likely to be around others and may find it harder to connect with them when you are.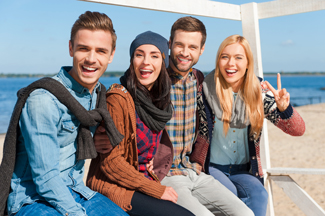 Why we do what we do
At Weybridge Orthodontics, we know that what we do isn't just about teeth: we know it's also about helping our patients to feel happy with who they are. This is why we love treatments like Invisalign in Weybridge.
The Invisalign system is a series of clear plastic aligners that gently move your teeth into their desired position over 9-18 months. If you are looking to straighten your smile to boost your confidence, Invisalign in Weybridge is ideal, because even while you are having the treatment, there is no effect on your appearance. The aligners can't be seen.
See the difference
Using 3D technology, our dentists can predict how your smile will look by the end of the treatment – so you can see the difference it will make before you even start. These images are used to create a set of aligners that you change every two weeks until your teeth are at their end point.
The aligners are also removable, so if you do have an extra special occasion coming up and want to make sure that no one sees your braces, you can take them out for a couple of hours. You can also remove them for eating and cleaning.
Visit us today
Come in and talk to our Invisalign dentists about how these discreet braces could help you to a happier and healthier smile.