In modern dentistry, more and more adults are seeking cosmetic or corrective procedures to provide them with the straighter, whiter smile that they have always wanted.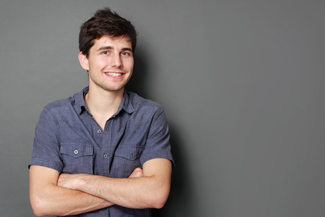 However, for adults who have a more complicated misalignment issue, it may seem that the only solution is to have traditional metal orthodontic braces. Far from what many of them had in mind!
With so much of the adult world based on appearances, many patients are seeking a more discreet treatment to help them straighten their teeth without paying the earth and luckily, there is an answer!
At Weybridge Orthodontics, we are able to offer adult patients a more discreet brace; the Incognito in Weybridge is one of our more popular braces with adults. It combines the realignment strength of a traditional brace with the discretion comparable to Invisalign at a fraction of the cost! Perfect!
Want to know if the Incognito in Weybridge is for you? Read on to find out more!
What are lingual braces?
A custom-fitted appliance that is practically invisible, Incognito in Weybridge is fitted to the back of your teeth, so no-one will know you are wearing them unless you tell them!
These braces are created using state of the art technology, to ensure that they fit your teeth correctly and do not cause discomfort during treatment.
How do they work?
Before having your new braces fitted, our team will need to take a bite impression if your teeth. Once completed, we will fit the braces to the back of your teeth, holding the gold brackets in place with dental cement.
Similar to traditional orthodontic braces, you will need to visit our team every few weeks for archwires tightened, to move your teeth into their desired position. Depending on the severity of your misalignment, you may require more tightening sessions and adjustments before that gorgeous new smile is achieved.
What can they correct?
Lingual braces can correct a wide variety of dental misalignments, commonly being used to treat issues such as over and underbites, crossbites, and protrusions.
However, lingual braces can also correct overcrowding, spacing issues and misalignments of the teeth; if you bit does not fit perfectly together, then it is likely that lingual braces can help to correct that!
What are the advantages of lingual braces?
Did we mention that they are practically invisible?
Of course, discretion is one of the key advantages of having lingual braces fitted but there are a few others too.
Compared to invisible aligners, for example, they are more equipped to deal with tooth rotations and more difficult movements, which are common in many mouths that require orthodontic treatment.
Similarly, lingual braces also offer our dental team more control over how your teeth will move.
This allows our dentists to perform more precise and minor movements, which would be impossible to achieve with invisible or clear braces. Eager to find out if lingual braces are for you? Contact our friendly team at Weybridge Orthodontics today for an initial consultation. Call us today!