Invisalign are a form of orthodontics, a type of dentistry which aims to straighten the teeth, correct moderate to severe overbites, and resolve protrusion of the teeth within the mouth. Invisalign in Weybridge could be argued as the largest brand provider for clear aligners within the United Kingdom, they have grown greatly in popularity within recent years, due to having a discreet appearance, and using convenient modern dental technology, such as digital scanning. Invisalign are essentially transparent plastic trays which are individual to each of our patients, and the situation of their dental case.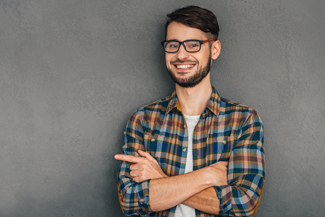 How do Invisalign in Weybridge work for you?
The transparent plastic trays are essentially replaced every few weeks, in order to adjust the alignment and position of the teeth within the mouth, to ensure they slowly reach their desired dental position.
The Invisalign in Weybridge treatment process
Much like with any dental, orthodontic, or cosmetic treatment, Invisalign begins with an initial consultation. During an initial consultation our dentists will work with you to help decide if Invisalign suits your needs. After we've decided that clear aligners fit your specific dental case, the treatment process can begin!
The first step
The first step is to scan your teeth using a three dimensional digital scanner, which illustrates each movement of the teeth throughout the Invisalign process. The Clincheck technology we use allows our patients to view the possible results which can be achieved through the use of Invisalign. In addition to our smile predictions, we can also tell our patients how many clear aligner trays are required during the process (which ensures they are always aware of the cost of treatment before it starts).
What's next?
After an initial assessment is made and we have made digital scans of your teeth and mouth, we can send your moulds to Invisalign! After receiving your first set of transparent trays, your teeth can start to move into the ideal position. Once treatment commences, Invisalign has the advantage of a reduced number of dental appointments (compared to traditional metal braces which require wire tightening), which also reduces financial costs.
The final step
Once your clear aligners have been sent back to our clinic by Invisalign, our patients will settle the necessary deposit to proceed with treatment. Once the deposit has been settled, our patients can pay the remainder of the dental fee over eighteen to twenty-four months with a zero interest payment plan.
How do I start my treatment?
If you are leaning towards the possibility of receiving clear aligners, then you may be wondering how to start the treatment process. Located on our website, we place our telephone number and email address to allow patients to contact us regarding any queries or concerns they may have.
Have a question?
Also located on our website, we offer our patients the chance to fill in a few personal details, along with any questions they may have for us regarding their potential treatment.
Pay us a visit
We understand that many patients would rather meet us directly, and discuss potential treatments face to face. Nervous patients may appreciate a visit to our clinic to ease their concerns which we always welcome.