Incognito braces are an excellent option for adults who want straighter teeth, whether they require minor, moderate, or major orthodontic correction. At Surrey Braces dental centre in Weybridge, they are a popular method of teeth straightening, and are much more discreet than traditional orthodontic appliances.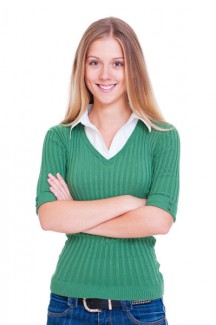 A lot of people, on hearing the word "braces", will already be running to the hills in fear of the obvious metal appliances their peers wore at school. At our Weybridge dental centre, we believe these traditional metal braces are still the best option in a lot of cases, particularly for children and teenagers who are now able to customise their braces with coloured bands.
However, we also understand that for a lot of adults, and indeed for "selfie-conscious" teenagers, the obvious nature of these braces can be somewhat off-putting. The team at our Weybridge dental clinic are always keen to point out the health benefits to be gained from teeth straightening, so we want to erase any barriers that may exist to patients – of any age – seeking treatment.
That's where Incognito braces come in. These are fixed metal appliances, which means that they can be used to correct the vast majority of orthodontic concerns, but they aren't visible in day to day life. This isn't the trickery of everyone's new favourite magician Richard Jones (who wowed the country recently to win Britain's Got Talent). In fact, it's all down to the braces' positioning.
Incognito are lingual braces. This means your orthodontist attaches them to the rear (or lingual) surfaces of the teeth, making them invisible in everyday life. Nobody will see them unless they are staring directly down into your mouth – and that's most likely to be your dentist or orthodontist!
These braces also have a unique bracket and arch-wire design to improve both treatment times and comfort for the patient. Every set of Incognito lingual braces prescribed by the team at our Weybridge dental centre is custom-made to fit each patient's teeth perfectly, and whilst they may take a few days to get used to (particularly if you play a wind or brass instrument) most people experience no problems.