With braces, you can achieve your lifelong dream of having straight teeth. However, even though archetypal braces have evolved, people are hesitant about the possibility of wearing a straightening aid.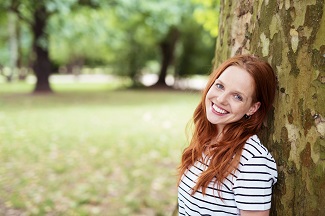 While adult braces are socially acceptable, many do not like the idea of having metal glued to their front teeth for the world to see.
If you are looking for an alternative device, have you considered Incognito in Weybridge? Contact us today at Weybridge Orthodontics, to learn more.
What is Incognito in Weybridge?
Incognito braces are aptly named because the device is positioned behind your teeth and out of plain sight.
They are made in a similar way to ordinary braces, using metal brackets and wire; only the placement is different.
Why choose Incognito in Weybridge?
Incognito or lingual (meaning toward the tongue) braces are custom-fabricated to fit the shape of your teeth exactly.
We also use 3D technology that helps to accurately map out your treatment and provide you with results that will not leave you feeling disappointed.
Will I have to change my lifestyle with Incognito in Weybridge?
Braces can change the way your teeth look monumentally, but when you wear them, you may get frustrated by the sacrifices that you have to make.
With lingual braces, these will not be issues that you face, and for the most part, you can carry on with your life as usual. At the same time, you will not have to worry about discolouration or white spots when your braces come off.
However, one thing to make a note of is that cleaning grit out of the back of your teeth can get tricky, so be sure to invest in some high-quality floss.
Is there anything else about lingual braces that I should know about?
Lingual braces do come with a set of limitations, especially if you have a severe overbite. A severe malocclusion will exert a lot of pressure on the device, causing it to detach easily. In these instances, our orthodontist will direct you toward a more suitable method.
You may also struggle to speak properly initially and develop a temporary lisp. However, once your teeth adjust to the foreign device in your mouth, it should go away over time.
As with conventional braces, there are types of food that you cannot eat because of how they might react with your device. For example, you should stay away from hard or crunchy food. If you do not want to limit your diet, Invisalign is a viable alternative.
Last but not least, despite being made to fit your mouth, the device has been reported by many as uncomfortable. While you may get used to the device, some people experience low-level discomfort throughout the experiences of wearing braces due to their tongue being in constant contact with metal.
Exploring the alternatives
If an Incognito device is not for you, Invisalign is another commonly used orthodontic aid that renders positive results and lots of happy smiles.
As with Incognito braces, the device, made from clear plastic, is not detectable to the untrained eye.
Repair your crooked or rotating teeth with Incognito.