At Weybridge Orthodontics, we care about all of our patients' needs and we understand the importance of feeling confident in the treatment we provide. For many adults, however, the thought of choosing visible braces to improve the alignment of their smile makes them feel like doing anything but smile and we know it! Choosing Invisalign Weybridge with us at Weybridge Orthodontics could be the solution you're looking for.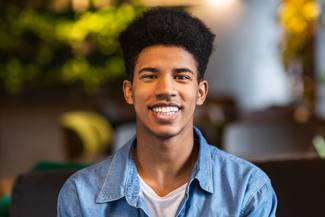 What is Invisalign Weybridge?
Invisalign is an alternative to fixed, visible braces. It consists of clear plastic aligners that are bespoke, made to fit comfortably along the gum line. As the name suggests, when worn, they are barely visible to other people and are basically invisible! The aligners apply gentle pressure to your teeth to gradually move them into the desired position. You will receive sets of aligners to take home and change on a weekly basis, coming for check-ups every six weeks or so.
Why should I choose Invisalign?
If you're looking for a discreet solution to realigning your smile, then Invisalign does just that. We find that our patients enjoy the flexibility that Invisalign offers. You can remove the aligners when brushing and flossing, enabling you to look after your teeth and gums properly. You can also remove them when you are eating and drinking, so there's no need to clean your dinner off them after having enjoyed a meal – a slightly less pleasant way to end a meal! Not only that, but you can remove the aligners when you want to play a particular sport or if you have a social event that you don't want to wear them for. The flexibility and choice that Invisalign offers allows you to have control over your treatment and still get results – as long as you generally aim for around 22 hours a day of wearing the aligners.
Another major benefit to choosing Invisalign is that they are comfortable to wear. This is thanks to the fact that you will have an iTero scan which will get the exact measurements of your mouth for your aligners to be made and allows a 3D animation to be made to show you what your teeth will look like after treatment, before you've even started wearing them! There's nothing like a little bit of imagination to help your motivation for treatment. Invisalign also offers a range for teenagers called InvisalignTeen and motivation factors can always be useful – the scan just won't get them to do their homework any more willingly!
Finally, clear plastic aligners tend not to break as easily as other brace systems such as fixed braces. This means you shouldn't be needing as many emergency appointments, if any. We know that you will have a lot of commitments and won't want to be visiting us too frequently and you shouldn't have to. If you do need to see us, though, we are always here and ready to help. Just book in with our friendly receptionists for an appointment and we look forward to greeting you.
For a smile that shines, check out Invisalign and find the confidence that a great smile brings.