Here at Weybridge Orthodontics, we are proud to be offering Incognito in Weybridge. Incognito is the only solution to the appearance of fixed braces. As its name suggests, Incognito Lingual Bracket System is the only fixed brace system that is invisible as it is placed on the back of the teeth and is customised to fit your mouth.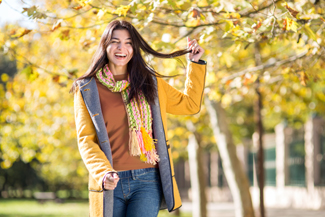 What are the benefits of Incognito?
Incognito in Weybridge offers a comfortable solution to straightening misaligned teeth. They are discreet, yet highly effective and are suitable for most age groups. Imagine wearing braces that nobody knows you have unless you tell them that you are! You don't have to take them out in front of anybody, because you can eat and drink with them in. They are custom made to fit your mouth and we ensure that your unique prescription is accurate after an in depth consultation. We can even use 3D imaging technology to show you what your teeth will look like after treatment has been completed.
The next steps
If you are interested in finding out more about Incognito, take a look at our website. We offer excellent service starting right from the moment you enter the building, being greeted by our friendly reception staff. After being guided through the completion of forms to gain a medical history, you will then be met by our clinical staff who will discuss your needs with you and will be able to answer any questions you have. During this consultation, you may have a range of x-rays, photographs and impressions made of your teeth. We will also give your mouth and jaw a thorough examination. A thorough examination will give you peace of mind that you're receiving only the best care and treatment for you.
After this consultation, if Incognito is the right option for you, you will then be met by a Treatment Coordinator who will be able to discuss all of the different treatment plans available to you, including NHS and private options. Any questions you have at this stage can also be answered – ask away!
Once the correct brace has been selected for you, a prescription that is unique to your mouth will be written and you will then need to attend the clinic for fitting the brace and attend checkups over the course of the treatment. Fitting may need to take place in a separate consultation after your records and scans have been carefully studied by our team, but this is just to ensure you get the correct treatment for you and your needs.
How long does treatment last?
Each patient will have a different time-scale for treatment, however, with over 100 years of combined experience between our practitioners, you can be sure that you will be treated effectively and in a timely manner.
Anything else I need to know?
We are highly experienced and able to cater for everyone's needs. Whether you're nervous, a younger patient or somebody older, we will dedicate the time and compassion to every single patient in our care. So, if you have misaligned teeth and you would like to find out how we can convert them to a super smile, take a look at our website to find out more.