One of the things that puts a lot of adults off getting their teeth straightened is the thought of having to spend months and months with metal 'train track' bracket and wire braces on the fronts of their teeth, making them look like a gangly teenager, when they are in fact a highly responsible breadwinner. If this is what stops you getting the lovely, straight smile of your dreams, then we've got great news for you. In Weybridge, Invisalign is a wonderful way of straightening your teeth without the hassle and embarrassment of traditional metal braces.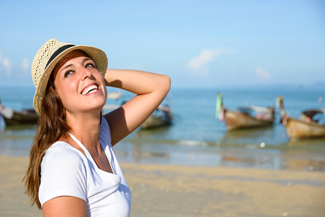 Here at Weybridge Orthodontics, we love being able to help people achieve a smile to be proud of because we know just how much it can boost their confidence. This can have hugely positive consequences throughout their lives. So it is sad that many adults forego the results because they cannot face the few months of treatment required to get them.
Invisalign in Weybridge makes the whole process so much easier. Instead of metal brackets and wires cemented onto the teeth, Invisalign uses a series of transparent plastic aligners that look like very thin mouth guards.
The Invisalign treatment journey
Invisalign aligners are manufactured to fit pinpoint accurate measurements taken from your mouth with a scanner. These are fed into a computer programme to create a virtual 3D treatment plan showing how your teeth will need to be moved and how they will look on alignment. This goes to the Invisalign factory in the USA, where your aligners are 3D printed out of smooth plastic. Each aligner has carefully placed pressure points on the inside. You snap it on over your teeth and the points put pressure on your teeth to nudge them one tiny step towards alignment. This takes one to two weeks, and then you move onto the next aligner.
Not only are the aligners almost undetectable on your teeth, but they are also removable. You can continue to eat whatever you like and keeping your teeth clean remains as easy as ever. You just need to wear them for 20–22 hours a day.
To find out more about Invisalign in Weybridge, why not come in for a consultation?