One of the main considerations that puts adults off getting their teeth straightened is their image. There's no getting around the fact that braces are associated with being an adolescent, even though dentistry has moved on a lot in the last couple of decades and there are various kinds of braces that are aimed at adults. For many people, even discreet braces are one step too far when it comes to their appearance; they either need braces that don't show at all or they decide to live with wonky teeth.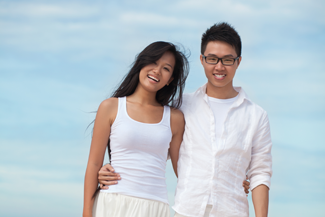 At Weybridge Orthodontics, we offer various kinds of discreet braces and it's true that some can be seen. But one brand of straightener is not only pretty much impossible to spot on the teeth, it is also super-convenient when it comes to the things that create hassle for braces wearers, namely eating and cleaning the teeth. No wonder that Invisalign in Weybridge is one of our most popular devices.
Tried and trusted around the world since the late 1990s, Invisalign in Weybridge is based upon the idea of turning mouth guards into straighteners. It is made of super-thin, see-through plastic, and looks like a gum shield. The aligners hug the teeth so well that, once they are in place over the teeth, they become very hard to see indeed.
If you decided to use Invisalign in Weybridge to straighten your teeth, you will receive a series of clear aligners. You wear them in order, each for 7-10 days. During this time, they will go from feeling like they don't fit to being comfortable. When they are well-fitting, it means the carefully designed bumps inside them have pressed on your teeth sufficiently for the bone to dissolve and rebuild itself around your teeth to get rid of the pressure. You then move onto the next aligners in the series.
You remove the aligners to eat and drink; you clean your teeth and then put them back in again. Each aligner must be worn for 20-22 hours a day to maintain the pressure needed to move your teeth. On average, it takes a year to realign someone's teeth. How long will Invisalign in Weybridge take for you? Come in and find out.