One thing that stops people from choosing to straighten their teeth is the visual aspect of traditional ´train track´ braces. It is also true that these types of braces can be uncomfortable even to the point of having to take prescribed painkillers.
Thanks to advances in technology leading to more modern materials being available, having your teeth straightened can be quicker and easier. These modern materials are also used to make treatments less conspicuous and more practical.
What treatments are available to me?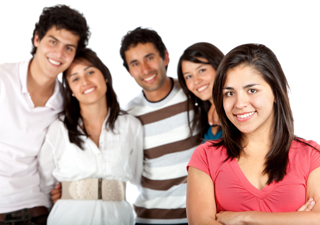 Here at Weybridge Orthodontics we offer many teeth straightening solutions, but the main focus this article is Invisalign treatment. In Weybridge, Invisalign offers a practical solution that could completely change the look of your teeth.
Invisalign uses a series of plastic trays that you will change every two weeks. Each tray is slightly different in shape, gradually adjusting your teeth over your treatment period.
Your journey with Invisalign in Weybridge starts with an initial appointment in which scans of your teeth will be taken to generate a 3D image plan to show you how your teeth will move over time.
Once you have had your treatment thoroughly planned and you're happy to go proceed, your custom-moulded tooth trays will be produced and you will be on your way towards straighter, more regimented teeth.
The benefits of Invisalign
A huge benefit of Invisalign treatment is that the tooth trays that are produced are transparent, making them almost completely invisible when they are in use.
It should also be noted that the trays are also completely removable, making meal times much less of a hassle. With Invisalign aligners, you'll be able to maintain a high standard of oral hygiene that may have been difficult with traditional braces.
Some dentists even pair Invisalign treatment with tooth whitening treatments as the tooth trays work in the same way as tooth whitening trays. This will give your teeth that extra sparkle, getting you closer to your dream smile.
Having straighter teeth can be a huge confidence booster, so if you're interested starting a journey towards your perfect smile, consider Invisalign in Weybridge.