Do you have to dress very formally for work? Some companies insist on a uniform or a very smart suit. And if you are a barrister you have to wear a wig. If you have to dress smartly for your job and your job requires you to deal with the public, if you are a teacher or in a position of authority, wearing braces on your teeth may not be the look you are after.
Small wonder then that in Weybridge, Invisalign has become an incredibly popular way to get teeth straightened. At Weybridge Orthodontics, Invisalign can straighten our patients' teeth without the whole world knowing about it.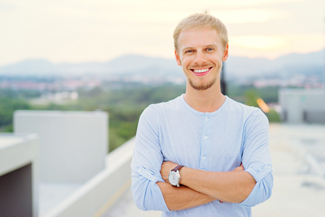 How does Invisalign work?
In Weybridge, Invisalign gives you a way to create the smile you have always wanted. This straightening method uses removable, clear plastic mouth guard-like aligners rather than bracket and wire braces that are fixed to the teeth.
In a consultation with us at in Weybridge, Invisalign makes use of 3D scanning to take pin-point accurate measurements of your teeth and gums. We feed this information into a programme to digitally recreate your mouth. From that, we can then plot how your teeth can be straightened. You can see them move into position on the screen in front of you.
If Invisalign is right for you and you decide to go ahead with treatment, the Invisalign lab in the USA will make you up a series of aligners using 3D printing. Depending on the complexity of your case, between 12–48 aligners will be printed. The first is only slightly different from how your teeth are now. When you snap it into place over your teeth, the pressure from those differences will start to move your teeth. It takes about two weeks for the pressure to wear off, and then you start using the next aligner.
Treatment with Invisalign usually takes around a year. You need to wear your aligner for at least 20 hours a day, but you can take it out to eat and drink, to clean it, and to clean your teeth. And, because the plastic is so thin, about 0.3 millimetres, no one will ever notice you are wearing an aligner, and it won't interfere with your speech.