Invisalign clear aligners are a popular alternative to wearing fixed braces for patients of all ages. They are just one of the discreet orthodontic options available at Weybridge's Surrey Braces, and we are certain that whatever your treatment requirements, we will find the perfect appliance to straighten your teeth without anyone needing to know about it – unless you choose to tell them.
What is Invisalign used for?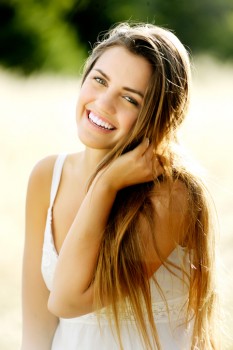 Invisalign can be used to treat a number of mild to moderate orthodontic problems, including crooked, crowded, and poorly aligned teeth. Treatment times will vary depending on the type and amount of correction that is required, and will be discussed by your orthodontist when first you come into our Weybridge dental practice for your consultation.
How the treatment process works
Every set of Invisalign aligners is custom-made to suit each patient's individual needs, and to fit snuggly over their teeth. The aligners gently guide your teeth into a new position, and you will need to change your aligner every two weeks or so as your teeth begin to move – as often as your dentist or orthodontist advises.
The number of aligners required to complete treatment varies from patient to patient. When you come to our Weybridge dental practice for your initial Invisalign consultation, you will be advised of how many aligners you will need.
Your consultation
We welcome both teenagers and adults for an Invisalign consultation at our Weybridge practice. You will be carefully examined and assessed to ensure this is the best treatment option for you. Impressions will be taken of your teeth and, with the aid of photographs and advanced computer software, your practitioner will be able to show you the expected results from the outset.
If you opt to go ahead with treatment, your aligners will be made up and when they are ready you will be called back to our Weybridge practice to start treatment.