Think of getting teeth straightened and you probably see an image in your mind's eye of teeth with metal brackets on them, with wires running between the brackets. Pan back and you discover the teeth belong to a nerdy 12-year-old with no sense of style and a rucksack full of homework on their back.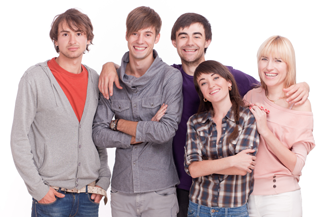 If that's what you see when you think of teeth straightening, then it's no wonder that you don't want to look any further into getting treatment for yourself, now that you are an adult in a position of responsibility. You need to be taken seriously, not be mistaken for your niece or nephew.
So, what are you going to do? Are you going to live with those wonky teeth that your parents couldn't afford to get fixed when you were a kid? Of course, you can do that. It's not as if they are giving you any pain, although they are rather hard to keep clean. You're always a bit shocked at the amount of plaque the hygienist scrapes from between them when you go for your 6-monthly session.
And, you do wonder what people think of your teeth when you smile. In fact, you sometimes try to keep your lips together, or you don't smile at all. It would be nice not to have to be so self-conscious.
And you can be. You can get your teeth realigned and upgrade your smile without having to compromise on how you look during your treatment, if you choose teeth straightening with Invisalign in Weybridge.
Invisalign in Weybridge features clear aligners which are only 0.3mm thick and made of clear plastic. Because they are made to measure to exactly fit your teeth, once the mouth guard-style aligners are on, no one can see them.
You take Invisalign out for eating and drinking, and cleaning your teeth, but wear them the rest of the time. They won't interfere with your speech, and, because they are made of smooth plastic, they won't irritate the inside of your mouth either.
In Weybridge, Invisalign treatment takes a year on average. Why not come into Weybridge Orthodontics and find out if they are the right way to straighten your teeth?