Poor dental alignment can be a source of poor dental health and cosmetic dissatisfaction. If you have a wonky smile, you might like to improve it, but probably don't want to spend a long time wearing a highly noticeable appliance.
In Weybridge, Invisalign is a type of realignment treatment that repositions your teeth without drawing too much attention to itself. At Weybridge Orthodontics, we provide Invisalign for a range of mild to moderate conditions. It brings great outcomes with minimal fuss.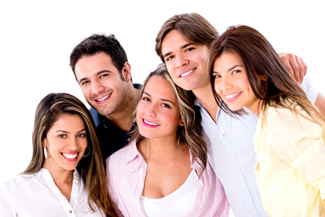 Methods and timing
At your first appointment for Invisalign in Weybridge, we'll take a good look at your teeth and make sure this treatment is appropriate for your needs. Then our 3D imaging equipment will capture some meticulous dental measurements.
A dental laboratory then produces, especially for you, a series of transparent plastic aligners. You wear a pair of aligners over your teeth for about 7-10 days, then switch it out for the next pair in the series. This carries on until your final pair of aligners comes off, which on average is about 12 months later.
Your teeth are gently pressured into better positions because the shape of each aligner is slightly different to the one that came before it in the series.
Social and cosmetic aspects
Invisalign in Weybridge is totally transparent, so it'll be hard for your friends and colleagues to notice your treatment unless they become really nosey. It's a user-friendly treatment because it doesn't involve any attachments to the surfaces of the teeth. Eating meals and taking care of oral hygiene will be as easy as it was before.
The exact length of time you'll spend wearing Invisalign in Weybridge depends on how much movement you need to achieve. Afterwards, we will need you to wear a retainer at night, which ensures the teeth become secure in their straightened positions.
The benefits of Invisalign in Weybridge will last for many years after the aligners come off. It can be a big step towards having a great smile and the improved dental health you've always wanted. You'll have a reduced risk of tooth decay, as well as a smile you'll want to show off.