Veneers have been a popular means of improving smiles for several years now, with many celebrities adopting the treatment as a way of creating the best possible look for their public. However, some people find that after having veneers fitted, their teeth may have shifted in terms of position over time or as a result of forgetting to wear a prescribed retainer after treatment.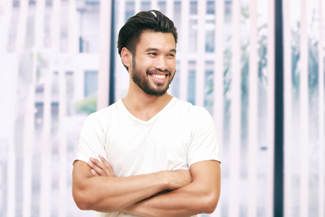 If there has been a shift in the teeth after getting veneers, you might be wondering if it's still possible to get braces or Invisalign in Weybridge. If you would like to discuss your case on an individual basis, we are happy to help you here at Weybridge Orthodontics in Surrey. It is possible to get these treatments with veneers. Read on to find out more about how it all works.
Braces
If you require braces, it is entirely possible to get them fitted even if you already have veneers. However, we will try to avoid attaching any brackets to the veneers, as these will not be quite as robust as your natural teeth and enamel in terms of holding the brackets in place. The ideal way to do this is to fix the brackets to the teeth that sit alongside your veneers, although we can attach to the veneers themselves if it is necessary.
Providing your veneers are in good condition before you get braces, the braces shouldn't affect their appearance. If there is any damage to the finish of the veneers once orthodontic treatment has been completed, we can polish them for you to get them back to their original condition.
Invisalign
If you have veneers but want to improve the alignment of your teeth, Invisalign in Weybridge is often the best option. This is due to the fact that this treatment involves placing a set of customised clear plastic trays over the teeth and there are no brackets or wires required. If Invisalign in Weybridge is a suitable option for you, it will be easy to protect your veneers and keep them intact for the duration of your treatment.
What's the right choice for you?
In an ideal world, people who need to get orthodontic treatment such as braces or Invisalign should make sure that this is completed before getting dental veneers. However, we are well aware that this is not always possible, and are happy to work with you to help you to achieve the best possible smile.
Invisalign may be the best option for you if you are worried about your veneers becoming damaged from braces, however, it is not suitable for every patient and this is very much dependent on your individual needs. In some cases, braces are the best means of meeting your expectations, especially as they can be very effective for a wide range of orthodontic issues.
Contact us to chat about your options. We will take x-rays and moulds of your teeth before asking about the result you are looking for. We then offer a choice based on our expertise, and we can then get on with creating that great smile!