It is a common misconception that orthodontic treatment takes place only during the teenage and adult years. However the truth of the matter is that it can be beneficial for earlier intervention than this to take place. The severity of the malocclusions being experienced, the jaw or bite problems or the chosen treatment for these issues has a particular impact on the recommended starting age for treatment. Of course, orthodontics Weybridge does indeed take place during the teenage and adult years, but it is important to note that orthodontic treatment can and does begin during the earlier years of childhood.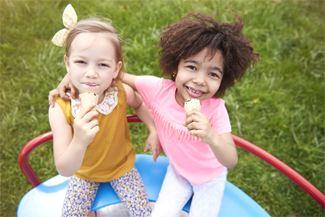 For children who are experiencing any of the previously mentioned problems, early intervention could be either necessary or advised in order for them to experience the most suitable treatment for their needs. Of course, those who are not trained in the dental field may find it difficult to know whether their child may be in need of orthodontic treatment. However, if there are indications that treatment with orthodontics Weybridge could be beneficial for your child, their routine dental practitioner should be able to inform you about this.
At what age do children get orthodontic treatment?
Treatment ages will of course vary from patient to patient due to the fact that each patient is unique and has their own unique set of dental needs. The timeframe in which a child loses their baby teeth is something which also informs treatment with orthodontics Weybridge. We would recommend that an evaluation for orthodontics takes place from the age of seven. This might be particularly useful for parents seeking clarity about whether their child's dental needs are severe enough to require early intervention.
For the most part, orthodontic treatment takes place once the baby teeth have fallen out and most adult teeth have grown in their place. This can usually be expected to happen between the ages of 9 and 14, although there are obviously exceptions to this. However, for certain dental problems or treatment options, it may be appropriate to put measures in place while the patient's baby teeth are still in situ. If you are looking for clarity about your child's orthodontic needs, why not give us a call at Weybridge Orthodontics to chat through your concerns and find out what we can do for yourself and your child/ren.
Why start treatments during childhood?
You might be wondering why it can be beneficial to start your child's treatments while they are young. We know that as children grow their bone structures are more easily manipulated in order to have a positive impact on their dental health. Orthodontic treatments can make use of this more supple nature of the bones, as well as the effects that growing has on the jaw to help correct the problems which your child is experiencing. This can help to prevent the need for perhaps more severe measures to take place later in life, particularly where significant dental problems are found.
There are many benefits to starting treatment with orthodontics during childhood, however, if you feel you have missed the opportunity for early intervention for your child or young person, we would encourage you to schedule a consultation with a member of our team to find out how we can help your child on their journey to straighter teeth.