Invisalign is a very popular way for adults and teenagers alike to straighten their teeth with maximum discretion. At Surrey Braces dental practice in Weybridge, it is one of a number of discreet orthodontic treatments that we offer to enable our patients to enjoy the benefits of straighter teeth without the need to wear obvious metal braces.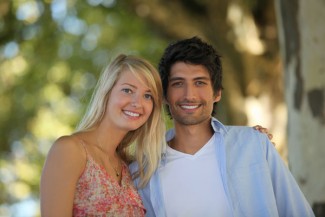 The benefits of straightening your teeth
At our Weybridge dental practice we are keen to stress that whilst Invisalign and other subtle orthodontic treatments are described as "cosmetic orthodontics", there are always health benefits to be gained from straightening your teeth.
Crooked, crowded, and misaligned teeth are more difficult to keep clean. There are gaps that can be hard to reach, in which particles of food can get trapped, and plaque bacteria can then build up. This increases your chances of developing both tooth decay and gum disease, which can both ultimately lead to tooth loss.
Whatever your issues with the alignment of your teeth, contact the team at our Weybridge dental practice to find out how we can help. Here, we explore the benefits of treatment with Invisalign. . .
What is Invisalign?
Unlike standard braces, which are fixed in place, treatment with Invisalign involves the use of a series of clear aligners to gently guide your teeth into an improved position. Because they are removable, these aligners have next to no impact on your lifestyle and are invisible to the untrained eye in daily life. They also make it easy to maintain good dental hygiene during treatment, because you can take them out to clean them and to brush your teeth.
Invisalign treatment in Weybridge
When you come into our Weybridge clinic for an Invisalign consultation, your dental professional will assess if this is the best course of treatment for you.
Invisalign aligners can be used to correct a wider range of orthodontic issues than many cosmetic brace systems. Impressions will be taken of your teeth and your aligners will be made up. Every case is different, so the exact number of aligners you will require will be discussed by your dentist. You change your aligner fortnightly.