Many of our patients are looking for ways to improve the appearance of their teeth and we strive to offer a full range of services and products to help them to do this. One of the most effective ways to improve your long term dental health as well as your appearance is to correct crowded, crooked or misaligned teeth by using braces. We believe that for a long term dental treatment to be successful it must be compatible with our patients' needs and lifestyle. This why at Weybridge Orthodontics,we use Invisalign. We find that these clear braces are an effective and reliable solution for correcting poorly aligned teeth and creating winning smiles.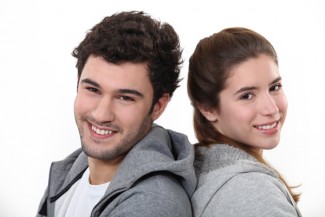 Straighter teeth gently with Invisalign in Weybridge
The Invisalign treatment consists of a range of virtually invisible, removable aligners that are worn for a minimum of 22 hours each day and are changed every two weeks for the next set of aligners. Each aligner is individually made for your teeth and as you change to the next aligner, your teeth gradually move, until they have straightened to the final position.
In Webridge, Invisalign braces are designed to fit in with your lifestyle, and most of the time you will forget that you are even wearing them. The time it takes to complete the treatment varies from person to person, depending on the complexity of each straightening issue. Your orthodontist will explain the whole procedure with you before starting the treatment to make sure that you are happy with the plan.
The Invisalign treatment made just for you
When you come for your first appointment to find out about Invisalign in Weybridge we will need to take an impression of your teeth to make sure that the procedure is suitable for you. Once this has been confirmed we will put together a detailed treatment plan. This includes a digital3D image of how your teeth will look on completion of the treatment.
If you are ready to transform your smile using a system that fits discretely and easily into your life, Invisalign in Weybridge could be the answer you are looking for.