Orthodontics isn't just for teenagers. At Surrey Braces dental practice, Weybridge, our skilled orthodontic team offer a number of treatments designed to help adult patients straighten their smile – and the good news is, many of these treatments are practically invisible. That means you can get the straighter teeth you've always dreamt of, without the mouth full of metal you've always feared.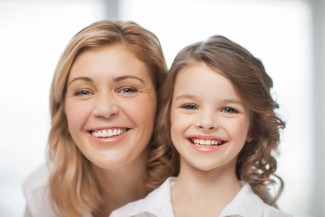 What is discreet orthodontics?
Discreet orthodontics uses either clear or tooth-coloured appliance to guide your teeth into a new position. These may be fixed appliances – braces – or removable ones – aligners. When you come to our Weybridgedental practice for a consultation your orthodontist will discuss the pros and cons of all relevant treatments with you, so that you can make an educated choice about your treatment.
We also offer treatment with Incognito lingual braces at our Weybridgedental clinic. These are traditional metal braces with one big difference – they are attached to the rear or lingual surfaces of the teeth, making them unnoticeable in daily life. Lingual braces can correct a huge number of orthodontic problems.
Clear aligners
One of the most popular discreet orthodontics treatments at our Weybridge clinic is the Invisalign system of clear aligners. These clear plastic appliances are practically invisible, and most people won't even know that you are having treatment.
You will be provided with a series of aligners that fit comfortably over your teeth. They guide them into a new position, and you change your aligner fortnightly as your teeth move.
Tooth-coloured braces
We offer a number of tooth-coloured braces at our Weybridgedental practice, including Damon and Clarity. These braces have been designed to blend in well with the natural colour of your teeth, using clear and tooth-coloured components for a high degree of discretion.
Many of these braces also have considerably shortened treatment times when compared with traditional orthodontics.