Wanting to have your teeth straightened without everyone knowing that you are wearing braces is only natural, especially if you are an adult in a position of responsibility or you work with the public. You need Invisalign nearly invisible aligners to get you through the straightening process without telling the whole world what you are up to.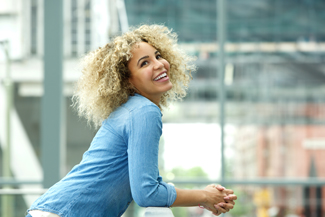 Cumbersome metal 'train track' braces are hard to miss. It's almost like they are shouting out of your mouth, crying out for attention, dying to give the straightening game away. And some people, just seem to think the mere fact that they can see your braces, gives them carte blanche to ask you lots of personal questions about your teeth. But at Weybridge Orthodontics in Weybridge, Invisalign braces sign your official secrets act. They won't tell if you don't.
Using Invisalign in Weybridge to straighten your teeth is not like using the more well-known brackets and wire braces systems that most of us associate with teeth-straightening.
This is because Invisalign, which is often misspelt as Invisaline, uses transparent rigid plastic trays, which look rather like mouth guards, that fit over the teeth.
The trays are made from detailed scans taken by your dentist in Weybridge. Invisalign's laboratory in the United States receives these digital scans and uses them to calculate the trajectory along which your teeth need to move to become beautifully aligned. The laboratory makes a series of aligners. Each tray represents one step along the way from the current position of your teeth to the position they need to reach for your desired smile of lovely straight teeth. The pressure that the plastic applies to the teeth is what gently nudges them along the way.
You need to wear each tray for a week to 10 days before moving on to the next one. The number of trays depends on your individual case.
Invisalign aligners are also removable. They are easy to clean, and so are your teeth. Also, you can take them out if you really don't want anyone to see you are wearing aligners, perhaps for a super-special event like a wedding, a job interview, or an important business meeting.