Here at Weybridge Orthodontics, we are excited to be able to offer adults and teenagers an alternative to traditional metal braces, with hidden lingual braces. Adults and teenagers alike will sometimes avoid much needed orthodontic treatment because they find traditional metal braces unattractive, distracting, or they feel they make them look childish.
Say goodbye to these views with Incognito in Weybridge. You can achieve the same results as traditional braces with a hidden treatment apparatus on the tongue-side of your teeth. Incognito lingual braces can achieve the same results as traditional orthodontics in a manner that is inconspicuous and undetectable. By discreetly attaching the braces to the back of the teeth, we can help you achieve healthy, straight, beautiful-looking teeth.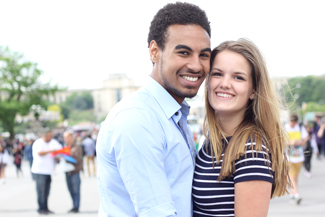 Advantages of Incognito lingual braces
Our patients love Incognito lingual braces because they are invisible when they smile, allowing them to share their beautiful smiles with confidence during and after treatment. While Invisalign aligners also offer similar cosmetic benefits, Incognito braces are always on and always working toward giving you the results you need and want.
If you are an athlete, a musician who plays a wind instrument, or a patient who is not a candidate for Invisalign but wish to have a more discreet orthodontic treatment option, Incognito in Weybridge could be just what you have been looking for.
Am I a candidate for Incognito in Weybridge?
After an initial consultation and evaluation at Weybridge Orthodontics, we can determine if lingual braces are the best method for straightening your teeth.
Once we have determined that you are an ideal candidate for lingual braces, we will take impressions of your teeth, which are then sent to a lab for custom-made brackets and wires. The braces will then be bonded behind your teeth for effective, but discreet, treatment. Periodic visits to see us during treatment will give us an opportunity to monitor your progress and make any necessary adjustments to optimise your final results.
Give us a call today
Don't delay orthodontic treatment because you are worried about how braces will affect how you look; Incognito in Weybridge will give you a discreet option you can trust.