Incognito are a type of brace we offer at our clinic, which uses a metal wire plating system adhered discreetly to the back of the teeth! Individuals who may wish to receive this particular form of orthodontics may be suffering from crooked, protruding, or misaligned teeth. Incognito braces may be often overlooked, however they are the perfect choice for patients who wish for subtle, and fast acting dental results.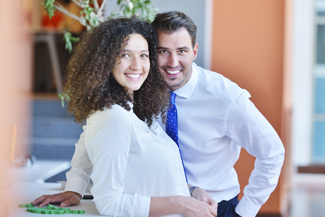 Would Incognito in Weybridge be right for me?
Our dental clinic has recognised that within the ever evolving field of modern dentistry, there is a growing desire for more discreet and effective braces. Our clinic believes that Incognito in Weybridge is a perfect choice for individuals who wish for minimal abrasion to the gums, something that can be caused by traditional braces. Aside from fewer dental abrasions, Incognito braces may only cause minimal or zero speech impairment, far less than that which can be caused by traditional metal 'train tracks'.
How do they work?
Incognito braces are referred to as the 'modern and invisible alternative to traditional metal braces'. Incognito braces at our clinic within Weybridge are designed using modern dental technology, and the best possible materials available. In terms of the way they work, Incognito braces are personalised for each of our individual cases, applying pressure from behind the teeth, to encourage the teeth to move in a positive direction.
Did you know?
Many of our patients may lean towards this particular form of orthodontics due to their discreet appearance, but also their pleasanter dental experience. These braces are extremely comfortable to wear, which can be a huge benefit for many of our patients, especially for those who do not wish for their dental work to cause a hindrance in their work and social lives.
The design process
Initially, our trained dentists will thoroughly assess each dental case, ensuring the design and measurements can be made perfectly for our patients. Our trained orthodontists use a three dimensional system which helps our patients visualise the end results, with pinpoint accuracy. Once the treatment begins, patients may embrace the fixed aspect of their braces, Incognito braces are never removed, which means patients can eat, drink, and clean their teeth as if they weren't there!
How much do Incognito braces cost?
We always inform our patients that each dental case varies greatly depending on the complexity of their dental situation and the condition which needs to be addressed, however we can give a rough estimate for them. We also offer monthly payment plans with zero per cent interest
Feeling nervous about receiving Incognito?
Many of our patients may be feeling anxious about receiving orthodontics at our clinic, however they need not fear. Dental anxiety is extremely common in patients facing dentistry, and can be triggered by negative childhood experiences. If you are a patient who is feeling nervous, our clinic doors are always open, so feel free to give us a call, or come in and see us, to voice any of your queries or concerns.