Incognito Weybridge is the only kind of teeth straightening device that is truly invisible when you smile. Although many other devices boast discretion, they are still visible, usually in the form of a clear plastic tray or teeth coloured brackets and wires.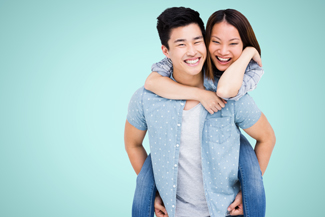 This treatment however is attached to the back of your teeth and therefore there is no sign of you using a teeth straightening device when you smile. Many people have some concerns about a speech impediment with a device that is attached to the back of their teeth, however for most users of Incognito Weybridge, they adjust within the first few weeks and then there is no concern whatsoever.
How does this treatment look?
Incognito Weybridge is very similar looking to traditional braces although they are attached to the back of your teeth and not the front. In addition, they are coated with gold plating to ensure that there are minimal grooves and edges that can trap food or cut your tongue.
Because we spend a lot of time cleaning in between wires of traditional braces to remove stuck debris, since this device is attached to the back of your teeth and we would be unable to see any food stuck, we need to cover the device to create a smooth surface to ensure teeth remain clean and healthy throughout the duration of treatment.
Some of our patients choose to use this treatment for their upper arch and a more traditional device on their lower arch to reduce the costs of their plan. If you are considering using a truly invisible device to straighten your teeth, then feel free to discuss with us the many options that are available to you, so that we can create a bespoke plan that is aligned to your needs and goals, and in order that you can experience the best possible teeth straightening journey.
It is important to us that you feel confident and in control of this momentous time, ensuring that you are willing to go through with the treatment and benefit from the life changing advantages that straighter teeth offer you.
What are some of the advantages that straight teeth can offer?
Having straight teeth is beneficial both for your self-esteem and general wellbeing. Your teeth when crossed and cramped are more difficult to clean, meaning that your oral health is generally at a disadvantage when compared to others who have a correct bite and alignment.
When teeth are not as clean as they can be, plaque and tartar builds up which can cause bad breath, cavities and eventual tooth loss.
Your self-esteem also suffers, both because there is an expectation to have beautiful straight and white teeth and because we tend to unconsciously judge others who do not align to these health goals.
By choosing to make a positive impact on your health by straightening your teeth, you are choosing to honour your wellbeing and we will be eternally supportive of this. Let's discuss the personal changes that you can experience by straightening your teeth and finding the best possible device to allow you to confidently and comfortably do this, today.