Invisalign offers an orthodontist a subtle, practical alternative to braces for straightening your teeth – and one that has minimal impact on your lifestyle. At Weybridge dental practice Surrey Braces, this is just one of a number of discreet options we offer to patients who want straighter teeth. Whatever your orthodontic situation, we are committed to finding the perfect treatment to suit your needs.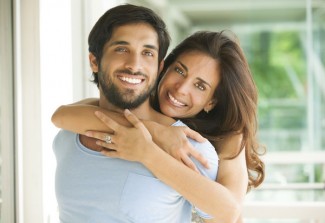 The benefits of teeth straightening
An increasing number of UK adults are opting to straighten their teeth later in life. Whether they missed out on treatment when they were younger, or had treatment only for their teeth to move back to their original position, there has been a huge increase in demand for adult orthodontics in recent years.
It's wrong to think of this as a vanity project, or a result of the expansion in interest in cosmetic dental treatments caused at least in part by the rise of celebrity culture. Whilst it's true that there are many aesthetic benefits to be gained from using braces or aligners to straighten your teeth, there are also numerous benefits to be had for both dental and general health.
When you straighten your teeth, you make them easier to clean, because orthodontic treatment reduces the number of hard-to-reach gaps where plaque can build up. So long as you visit your dentist and hygienist regularly, straightening your teeth can cut your risk of gum disease and dental decay.
Studies have linked gum disease to a number of general health concerns, including diabetes and heart disease, so teeth straightening with a subtle system such as Invisalign can benefit your general health, too.
Unlike braces, which are fixed to your teeth, Invisalign aligners are removable. When you come to our Weybridge practice for a consultation, your orthodontist will take measurements and impressions of your teeth for your aligners to be custom-made.
Made from clear plastic, Invisalign fits comfortably over your teeth. You can take your aligner out for short periods to eat, to clean, and to brush your teeth and you change your aligner every fortnight.
To book a Weybridge Invisalign consultation, contact Surrey Braces today.