Self-consciousness plays a big part in the whether or not people decide to go for treatment to get their teeth straightened.
Children generally don't have the option to choose whether or not to get their teeth straightened; their parents choose for them. And if they are pre-adolescent, they don't usually mind what braces they wear.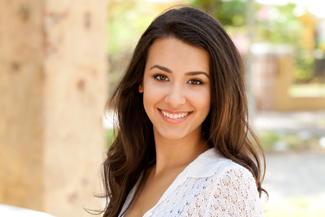 But as kids hit their teenage years, they are more likely to suffer from excruciating self-consciousness as their hormones rage around their bodies. This settles down and wears off, but then they are into adulthood and face another problem to do with image. It may not be so vital to look cool anymore, but it's become very important to look professional. And braces will forever be associated with looking like a gawky adolescent.
So often people go through life wishing they could get their teeth straightened but not doing so because they don't want to look odd.
But with Invisalign in Weybridge, all that worrying about image can be put to one side. This is because Invisalign in Weybridge, from us at Weybridge Orthodontics, is so thin and transparent that, once it is put on over the teeth, it can hardly be seen at all.
No brackets and wires
Instead of the usual brackets and wires fixed to the fronts of the teeth, Invisalign uses clear aligners made of very thin plastic. They look more like mouth guards than braces.
The movement is created by bumps and ridges placed inside the aligners to press on the teeth in a particular direction. Wearing the aligners for 22 hours a day gently moves the teeth.
Patients receive a series of aligners. The progression of the treatment with Invisalign in Weybridge is created by wearing each aligner for 7-10 days. At the start of wearing it, it feels uncomfortable. As the jawbone reacts to relieve the discomfort, by dissolving and rebuilding the bone around the teeth, the pressure disappears. By the end of a week or so, the aligners feel like they fit and it's time to move onto the next one in the series.
On average, treatment with Invisalign in Weybridge takes a year.