Invisalign is one of the most popular alternatives to traditional metal braces for patients who want straighter teeth. At Surrey Braces, Weybridge, it is just one of the many discreet orthodontics options available.
How Invisalign differs from standard braces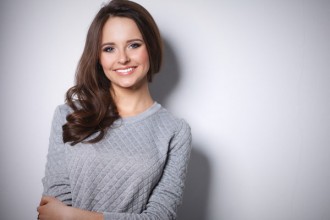 The Invisalign system has been designed with both discretion and convenience at its heart. Many patients tell their dentist or orthodontist that they would love to straighten their teeth, but have no desire to wear standard braces because they are very obvious and not always compatible with a professional adult's lifestyle.
At our Weybridge dental and orthodontic practice we fully empathise with this predicament, while also knowing the benefits orthodontic treatment can have on your self-esteem, dental and general health.
We believe that our patients should have access to the most reliable and effective solutions to their dental health concerns, and have found that Invisalign is an excellent option in many cases.
Invisalign is a series of clear aligners that fit comfortably over the teeth and gradually move them into an improved position. Unlike traditional braces, the aligners are removable, so you can take them out to eat and drink, to clean, and to brush your teeth. This, combined with their near invisibility, means that they have minimal impact on your lifestyle, as well as making maintaining good dental hygiene during treatment as easy as brushing your teeth, with no need for specialist techniques to clean around your braces.
How treatment works
We welcome patients from Weybridge and beyond for Invisalign treatment. If your orthodontist agrees this is the best option for you, they will take impressions of your teeth so that your bespoke set of aligners can be created.
You will be given a series of aligners, which you change every few weeks as your teeth move. The exact number of aligners will be discussed at your initial consultation.