Weybridge Orthodontics know that there are good reasons why many potential patients do not contact an orthodontist for treatment. There are still negative associations with the wearing of braces, with many people believing braces are unsightly and will lead to them becoming embarrassed by having to wear them.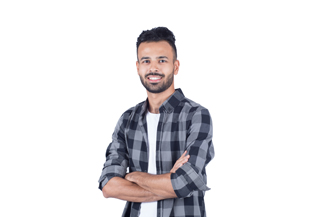 What many people may not have realised is that this no longer has to be the case, thanks to modern technology and practices. We are proud to introduce Incognito Weybridge, a new kind of brace that will help to change the way you will think about the need to use braces.
Incognito: an introduction
The Incognito™ Lingual Bracket System is a new technology that has enabled the creation of a new format of braces that are practically invisible to the eyes of others looking straight at you, as you are talking and smiling. Now you can receive Incognito Weybridge, knowing that you will not feel self-conscious whilst receiving the treatment needed to straighten your teeth. Best of all, you can keep smiling throughout your treatment.
These Incognito braces are customised to fit into place in the client's mouth behind the teeth, using the latest in material technologies to gain the best results and be comfortable for them to wear. The Incognito Weybridge braces are designed to always remain in place throughout the treatment period, causing no major issues whilst eating and drinking.
We are certain that the results gained using this new state-of-the-art technology will put a smile on the face of any patient using this treatment. You can find out if this treatment is the right one for you via a full consultation and examination carried out by one of our expert orthodontists.
The results of treatment
More people than you may think find they need to undergo some form of orthodontic treatment, many more have considered it as an option. The whole purpose is to give every patient the ability to have the teeth they are looking for and need, as well as increasing the quality of their oral health.
Having your teeth straightened gives you the ability to take greater care of your oral hygiene by making it easier to clean your teeth and gums. This in turn helps to decrease the chances of issues such as gum disease and bad breath.
Another common problem that brace technology can help solve is that of a weakened or misaligned bite. Realigning your teeth will help to increase the strength of your bite, making it easier for you to chew food and eat.
Prepare for treatment
You must maintain a high standard of oral hygiene when preparing to receive orthodontic treatment, as well as throughout your treatment time. You may want to seek advice from your consultant and start to adopt some good practices for your oral hygiene in the weeks leading up to the start of your treatment.
Getting used to these practices in advance will help lower the risk of gum disease and other complications whilst you are wearing your braces.