Here in Weybridge, orthodontics is on the rise; that is the treatment of misaligned and crooked teeth. Not only can Weybridge Orthodontics offer you a whole range of options for obtaining the smile you have always wanted, but we can also offer advice on how to maintain your braces during your treatment.
Options such as invisible braces spring to mind. Braces can be discreetly affixed to the back surfaces of the teeth, so no one will even know you are wearing them. There are also clear plastic aligners, which you wear over your teeth but which cannot be seen by the untrained eye. These are removable so you can easily take them off to eat, brush or floss.
With the skills we have in creating personalised braces treatments, we also are able to offer mouth guards. At Weybridge Orthodontics we can create a custom-made mouth guard to protect your teeth and gums from damage during more physical and/or contact sports.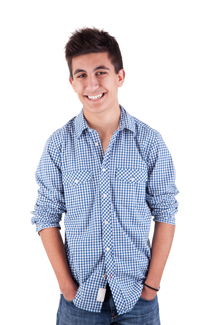 Breakages and Maintenance
In the unlikely event that your braces require attention following damage, you can contact our friendly practice. Our Weybridge orthodontics professionals can advise you on whether you need to come in as soon as possible or whether we can wait until your next scheduled visit.
'Teething troubles' may arise once your braces are fitted. Mouth ulcers can be treated with topical cream such as Bonjela for instant relief. New braces can, in some cases, cause irritation to the wearer but by inserting a little relief wax or Brace Eeze between the brace and the mouth can prevent further irritation. This can also help with a protruding wire. You can place some relief wax or Brace Eeze between the wire and the mouth to stop irritation. Even if the ligature or coloured elastic band has come off the bracket, this can be left off until your next scheduled appointment.
Of course, if you are concerned at any point, or the irritation cannot be quelled with the wax, please contact us and we will be more than happy to schedule an earlier appointment.
If you have crooked, crowded, or misaligned teeth, consider orthodontics in Weybridge. We are here to set your smile and your mind at ease.