Want to straighten your teeth but you are not thrilled with the prospect of wearing metal braces? You are not alone. Luckily, modern dentistry has come a long way in recent years and nowadays there are many discreet teeth straightening treatments available for those adults who wish to fix their smiles without anyone knowing.
At Weybridge Orthodontics, we appreciate that not everyone is willing to wear metal braces. For this reason, we offer Invisalign in Weybridge, an innovative teeth straightening treatment that helps move your teeth into their correct position with the use of transparent, removable aligners. This way you can keep smiling while in treatment.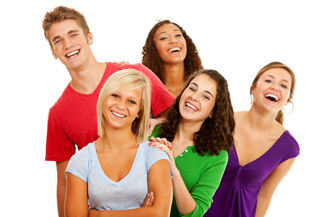 What is Invisalign?
Invisalign consists of a series of transparent, removable aligners that help move your teeth into their correct position as prescribed by your dentist. These aligners are custom-made with the help of 3D technology to help your dentist monitor your progress from the beginning of the treatment to the end. You will wear each aligner for two weeks approximately (or more if requested by your dentist) and then move to the next one in the series until you reach the last one. After a few months you teeth will look and feel straighter. Treatment time varies for each individual, however, most adults have their teeth straightened with Invisalign in between 9-12 months. In this respect, they work faster than regular braces.
Why would I want Invisalign?
Invisalign is an appealing treatment for many reasons. Not only are the aligners virtually invisible, they are also removable, which means that you can take them out to eat and drink your favourite foods and beverages. You will also be able to brush and floss your teeth as you normal would. However, you should wear them for at least 22 hours per day for effective treatment.
Invisalign aligners are made of smooth plastic, which makes them comfortable to wear and less likely to harm your mouth. Finally, since their design is so simple, they require fewer adjustments, therefore, fewer visits to the dentist.
Overall, Invisalign in Weybridge is an ideal treatment for image-conscious teenagers and adults, who do not wish to compromise their lifestyle.